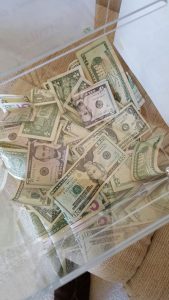 A monumental Thank You to everyone who came out to our shows this past month, supporting both comedy and a cause: Help change the world one smile at a time. www.smiletrain.org.
Because of your kindness, we raised nearly $250, and with the promise that Serving Up Comedy would match dollar for dollar, we rounded it up to $500 that will go to The Smile Train.  Your wanting to give has made possible two complete surgeries for children with a cleft lip.  Upon the completion of their operations, for all the rest of their lives they will smile with genuine happiness.  And their happiness will touch the lives of the hundreds if not thousands of people who enter their lives.  Probably we will never meet the children whose lives you've changed.  But know that they are changed, and only to the better.
As a Thank You, come out to our next show and let us say Thank You in person.  You deserve laughter and goodness in your lives.  Allow Serving Up Comedy and The Warehouse to take care of you, if only for a couple hours, while we bring you a stellar show and kick off our next charity, 4PAWS4PATRIOTS.